Xcelerate 'Flextension' Featured at Twilio SIGNAL Conference
During the keynote of Twilio's annual SIGNAL conference held on Tuesday, October 20th, 2021, Satuja Parulekar, Head of Contact Center at Twilio, introduced "Flextensions" – turnkey solutions built on Twilio's Flex platform. One of the two new solutions highlighted was Xcelerate by Waterfield Technologies, an out-of-the-box solution to deploying a feature rich, omnichannel contact center, in days.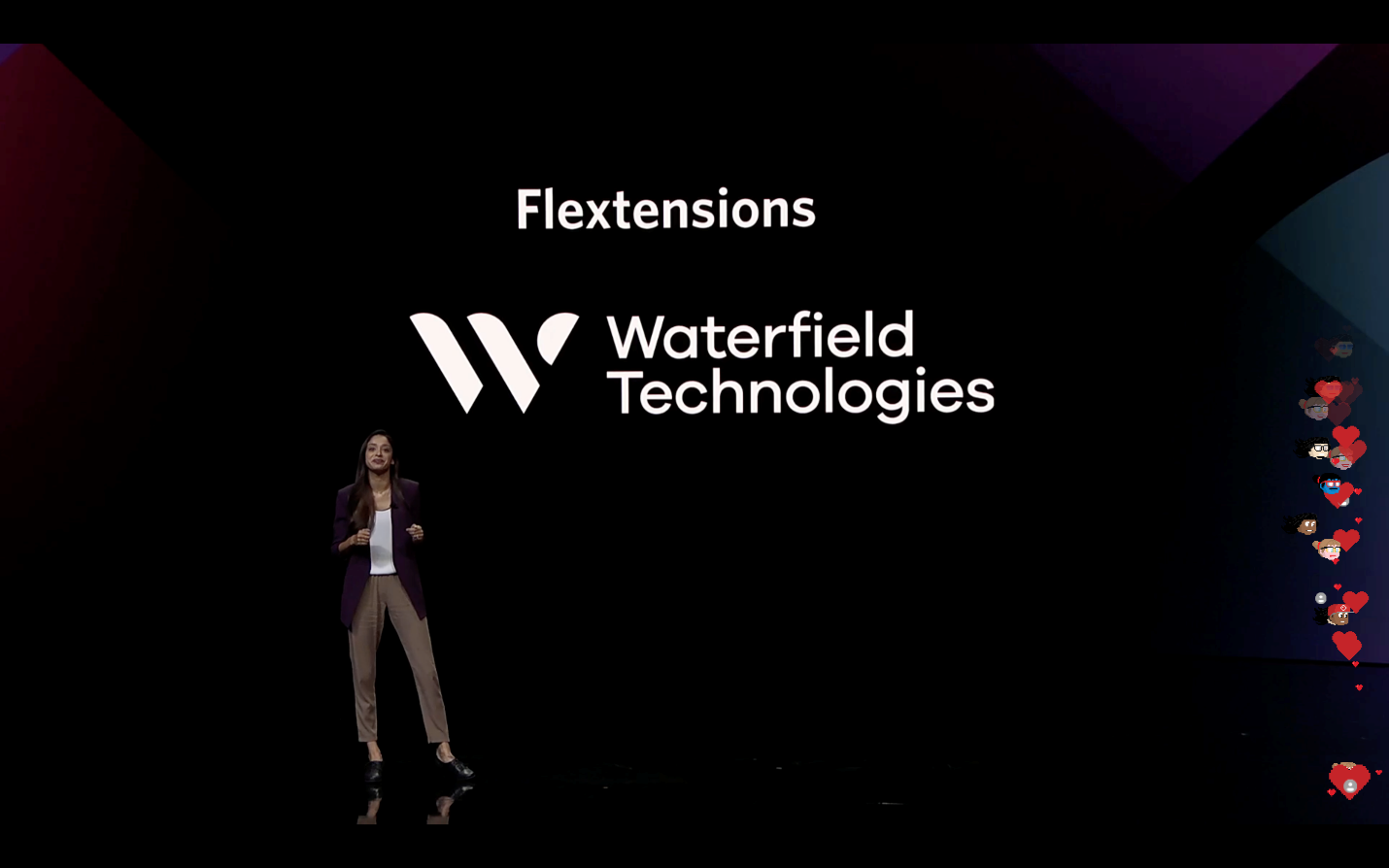 Sateja Parulekar
Waterfield's Chief Customer Officer, Evan Jones, and Solutions Consultant, Bryan Benway, presented a speaking session immediately following, providing attendees with a deeper dive into this groundbreaking new solution.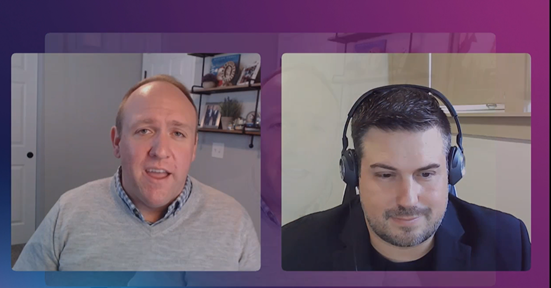 Evan Jones (left) and Bryan Benway (right)
The "Why?" Behind Xcelerate
Waterfield Technologies has deep roots in the contact center space, with over 30 years expertise in every aspect from customer experience solutions to product development, with deployments spanning the globe. It's that experience that enabled us to identify a need in the marketplace. We knew companies were eager to take advantage of the customizable options available with the Flex platform but also understood the development time and effort required to build the core applications required for a fully functional contact center. Working closely with the Twilio Flex product development team, we created what's known today as Xcelerate. A "single pane of glass" interface capable of integrating with any number of third-party CRMs. The product underwent rigorous testing and security assessments to ensure the value and customer experience were high.
Who is Xcelerate for?
Twilio's CEO and co-founder, Jeff Lawson, stressed the importance of owning your customer relationships, referencing how the biggest companies in the world like Apple, Amazon, and Netflix each have their own customer engagement platform.
The great news is that businesses of all sizes can now also build their own personalized contact centers like the digital giants. The Twilio Flex platform makes that possible. Still, depending on the market, it would help if you had specific skillsets and time to develop Twilio Flex. What if you don't have an army of engineers to commit to development and support?
That's where Xcelerate comes in. It removes the need for up-front development, accelerating the go-to-market strategy for builders and non-builders alike. As with Twilio Flex, Xcelerate is scalable and can support up to 5000 concurrent users, making it the perfect fit for organizations of all sizes from enterprises looking to power-up their customer interactions to small to mid-size businesses needing something more than just a cloud-based phone system.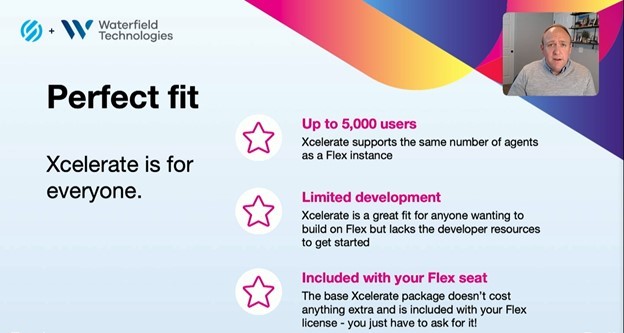 Like Flex, Xcelerate is customizable – everything from changing the color palette, the location of components, layout, etc. Clients can make these changes on their own or with Waterfield's help.
Agent Experience
Agents handle interactions over multiple channels, often performing many tasks at the same time. Pulling these into a single view helps simplify and drive efficiencies. The ability to integrate with an organization's CRM and pull a customer's complete history into a panel assists the agent as they work through customer interaction. They can make notes, complete a log, and set disposition codes during a call or chat. There is also a readily available knowledge base for the agent to search and query as well as canned responses. Users can review their stats via general agent metrics (total tasks completed, hold time, call handling time, etc.) on the same screen.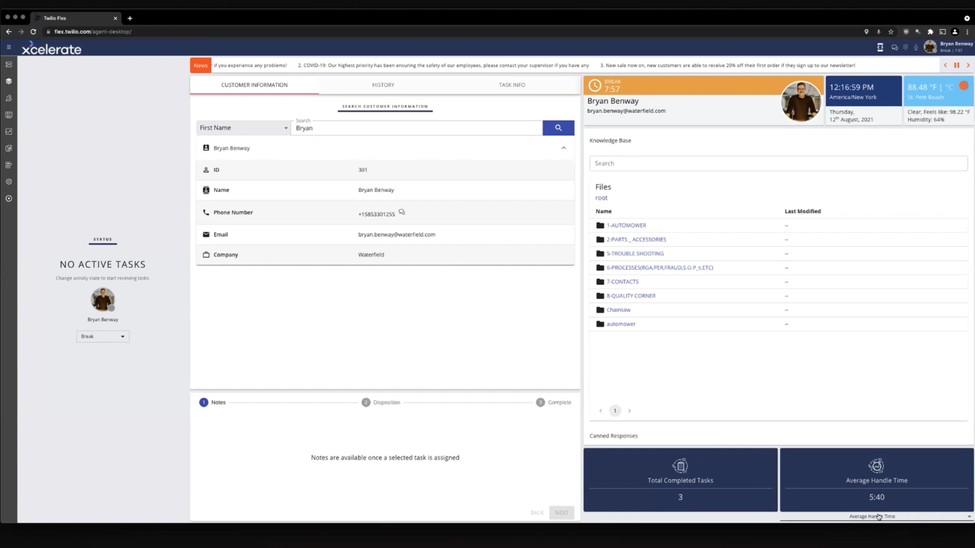 Admin/Supervisor Experience
Admins and supervisors can view agents' interactions and tasks simply by clicking on them. They can easily enable and disable specific user skills and change agent status through a single panel as well as review metrics in real-time (such as tasks are being worked, number in queue, wait time, agent status) from various queues at the channel level.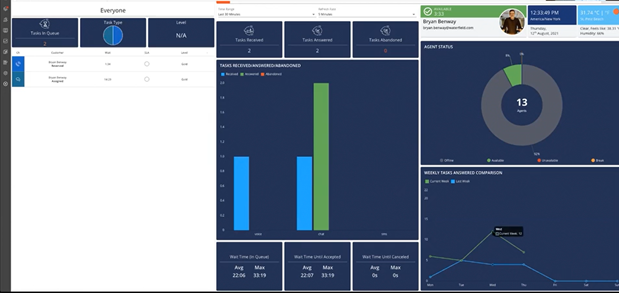 Everything is web-based and allows users to quickly build reports and set alerts right in Xcelerate using drag and drop editing.
The web interface enables admins to create canned responses, distribution codes, and configure news tickers and make them available to agents on the spot, rather than rely on multiple systems to provide that info.
Xcelerate pulled in the powerful Twilio Insights analytics platform to allow supervisors and business users to view specific queue metrics to measure KPIs. All these features are available out of the box with the option to customize through the web interface to provide the information needed by decision-makers.
Implementation
"Xcelerate" earns its name by the speed at which this out-of-the-box solution is deployable – in days, not weeks or months!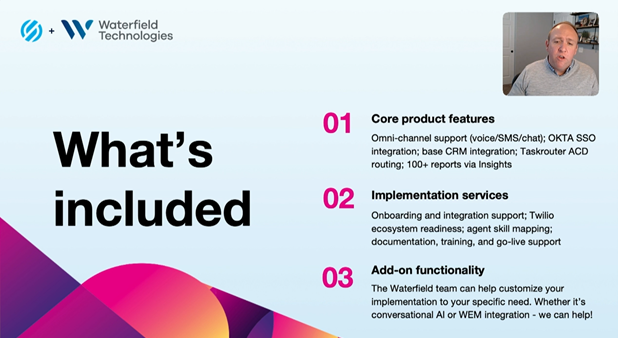 Implementation is managed through a combination of the Waterfield and Twilio teams with fully managed post-migration support available for 24x7x365 assistance, remote or on-site. Clients work alongside the migration team over a thoughtfully planned timeline. Every deployment is different, and Waterfield works to ensure a smooth transition by acting as the client's outsourced IT team- educating and training at every step. "We're not just going to hand you the keys and walk away," Jones stated.
Twilio Integrations
Because Xcelerate is built on the Twilio Flex platform, it supports the broader Twilio partner ecosystem from workforce engagement suites, to analytics and insights, to various platform integrations. Everything that Flex supports, Xcelerate does too.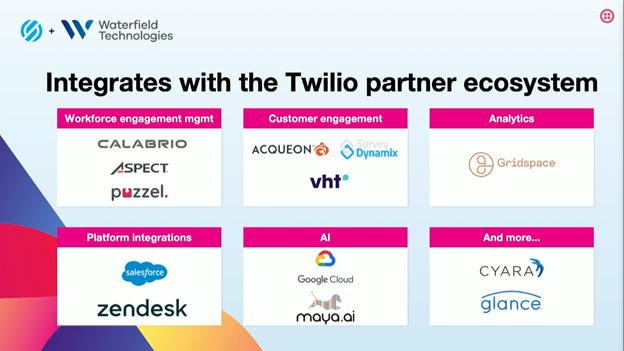 What's next
Xcelerate is continuously evolving and improving driven by the needs of the customer.
Future releases include:
Outbound dialing
Video support
Agent-specific voicemail
Agent wallboards
Twilio segment integration – unified customer data
Multi-party conferencing
These are just some of the things to look for in the future. And customers have complete control over when and how new features are pushed to their environment giving complete confidence that customizations are not overwritten.
How to Get Started
Waterfield and Twilio are dedicated to creating unique solutions as every deployment is different. "Start small," said Jones. "Identify a business line or certain contact center component within your business that has a high tolerance for change or wants functionality that doesn't currently exist in your contact center software today."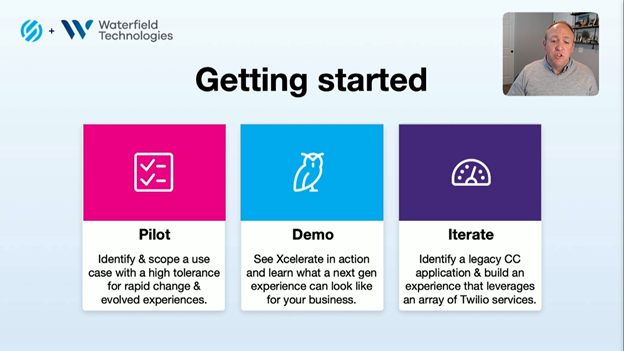 A great way to see Xcelerate in action is to demo an Xcelerate-enabled experience on a trial basis. Waterfield can customize this demonstration in your own environment and use case and set up a Proof of Concept to test the features.
Learn more about Xcelerate by Waterfield and schedule your demo today!